Stepping Up to the Plate
As the need arises, chefs are recognising that more than nourishing individuals, they can help nourish communities too.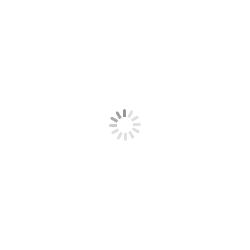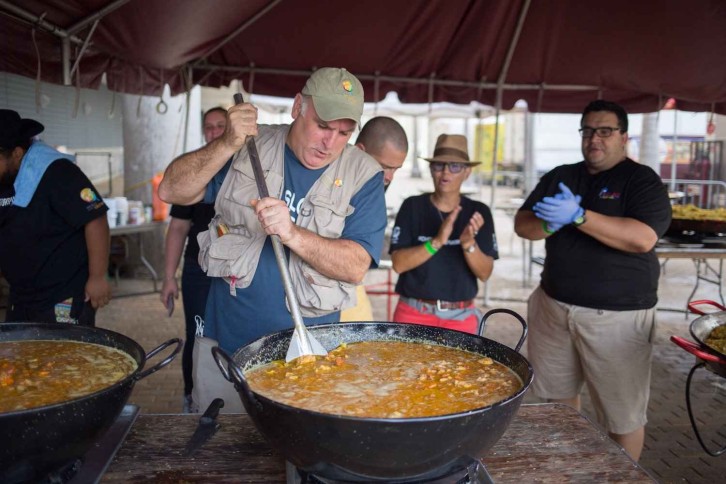 © World Central Kitchen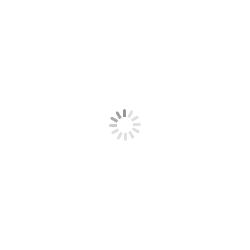 Clare-Louise McGrath
By definition a chef is an expert cook and tradesman, proficient in all aspects of food preparation; however, global culinary trends are suggesting a redefining and broadening of chefs' responsibilities.
As the need arises, chefs are recognising that more than nourishing individuals, they can help nourish communities too. They've seen bureaucracy and red tape get in the way of progress and those who can't provide for themselves are being left at the wayside. Armed with the skills necessary to effectively lead a kitchen, Good Samaritan chefs are leading the charge and figuring out ways to better serve the most vulnerable in society. One key example of this, with a special Cayman connection, is the work being done by Cayman Cookout favourite, Chef José Andrés and the World Central Kitchen, his not-for-profit organisation devoted to feeding disaster stricken communities.
Feeding an Island
World Central Kitchen works to strengthen communities and economies, providing both short-term relief and long-term solutions using the power of food. This power lies in food's ability to bring people together and Chef Jose Andres' approach serves as a blueprint for how this tool can be wielded by chefs all over to benefit society.
On September 20th, 2017, Puerto Rico was struck by one of the deadliest Atlantic hurricanes in recorded history. With sustained winds of 109mph, Hurricane Maria tore across the Island, generating storm surges and flash flooding of up to 15ft, flattening neighbourhoods and completely immobilising Puerto Rico's power grid. In the aftermath the Island was declared a Federal Disaster Zone, and the U.S. government scrambled to provide sufficient relief support for a crisis of this magnitude. Organisations around the world rallied in support of Puerto Rico, eager to assist with the disaster management in any way they could, but perhaps none were more immediately impactful than the efforts of the World Central Kitchen.
Once on the ground, the celebrity chef and his team of volunteers immediately got to work doing what they do best: providing a hot plate of food where it's needed most. A network of emergency kitchens were set up across the Island, from which a total of 3.7 million meals were served between September 2017 and June 2018, making it Puerto Rico's largest meal operation to follow the hurricane. Since its conception the World Central Kitchen has gone on to organise relief efforts in the Dominican Republic, Nicaragua, Zambia, Peru, Cuba, Uganda, The Bahamas and Cambodia, as well as provided free meals for Camp Fire survivors in Butte Country, California, the furloughed federal workers during the 2019 U.S. government shutdown, and those affected by the 2019 Midwestern U.S. floods.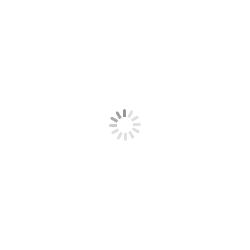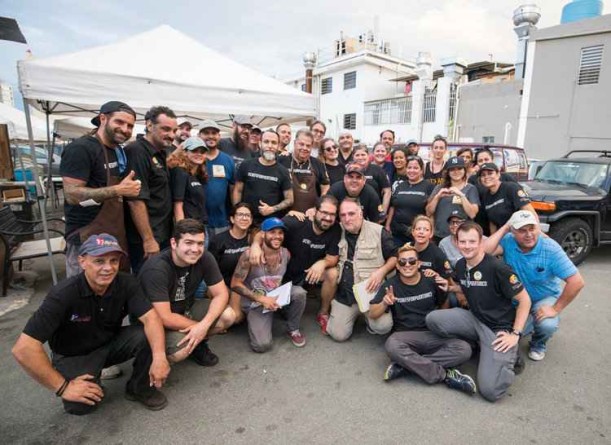 ©World Central Kitchen
Hungry for Change
Cayman's own chefs have certainly recognised their role in making a difference and have stepped up to the plate to help cut through some of the Island's more pressing issues.
Seed2Plate
After learning that 33% of children in the Cayman Islands are considered medically obese, wellness expert and local chef Maureen Cubbon felt obligated to do her part to improve these figures. As the Cayman Islands' Food Revolution Ambassador, Maureen maintains that a healthy diet begins with food education and so she developed the Seed2Plate programme to encourage greater consciousness around food choices among the Island's youth. "The goal is to teach children about where their food comes from, local agriculture, sustainability and spark their passion for cooking", she explains.
The after-school programme works in partnership with the YMCA to run weekly classes throughout the school year and presently operates in six government schools across the Island. Each participating school has a garden facility where children are shown how to cultivate and care for their own plants, while learning about food production and nutrition. Children are then asked to create a dish using ingredients they have grown. The children are enthused by this hands-on approach to mealtime and the experience-based teaching helps them better understand the connection between cooking your own meals and prioritising nutrition. Maureen hopes that these lessons will carry the students forward, inspiring an interest in cooking and encouraging a lifetime of healthy habits to take root.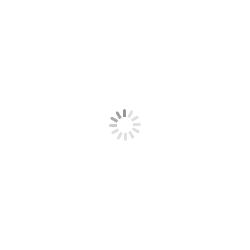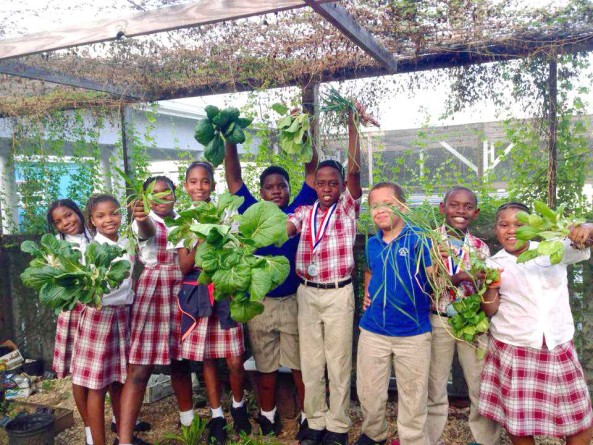 ©Seed2Plate
Feed Our Future
Feed Our Future, led by Chairwoman Stacey VanDevelde and supported by a team of local chefs who charitably lend their time, was established in 2011 in response to a public school teacher coming forward about her first-hand experience of seeing the effects not eating well can have on children. Supporting around 200 kids annually, the small Feed Our Future team works tirelessly toward solving childhood hunger on-Island through funding nutritionally balanced school meals to those in need. The unfortunate truth is that there are children in every district in Cayman that do not have access to healthy food and it is affecting everything from their performance in school, to their wellbeing and behaviour. For households that are time-pressed or on limited budgets, packaged and processed foods are a convenient alternative to shopping and preparing home-cooked meals, and this is where Feed Our Future steps in.
Children are referred to the programme on a case-by-case basis according to certain criteria being met. Feed Our Future then work closely with school counsellors, community workers, and the child's family to determine what steps can be taken to improve the situation. During the summer holidays they partner up with Foster's and Best Dressed Chicken to run 'A Recipe for Summer', to assist those children that rely on subsidised meals during the school year. Participating families receive a weekly assortment of recipes and ingredients from Foster's supermarket, exposing them to healthier meal ideas.
The success of the various Feed Our Future initiatives is due to the generosity of the community and allows the organisation to also host educational life skill and wellness workshops each year. Volunteer chefs and dieticians show how families can use or stretch what they already have with a focus on healthy, low-cost cooking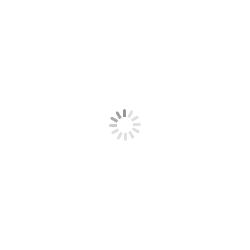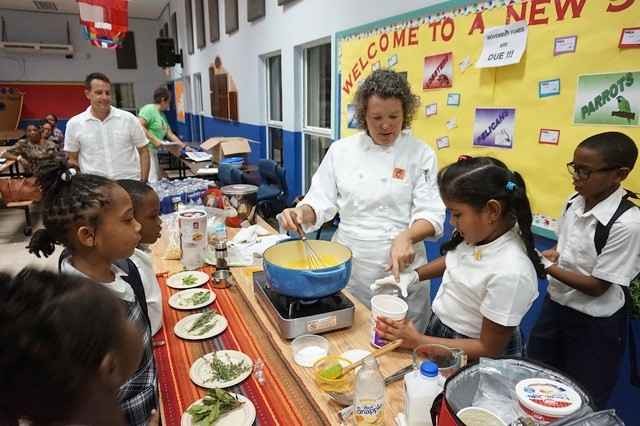 ©Feed Our Future
Meals on Wheels
Cayman's home kitchen chefs are also sweetening the pot in the most 'CaymanKind' way by volunteering their time to prepare meals for seniors, among whom isolation is a major issue on-Island.
Meals On Wheels Cayman Islands provides hot, nutritious meals hand-delivered daily by a team of over 100 volunteers. The four dedicated kitchens are managed by Ms. Erin Bodden, Mrs. Janice Welcome, Mrs. Meredith Hope Foster and Ms. Alex Johnson. Presently they serve over 40,000 meals in all five districts. The service ensures the elderly and the disabled are receiving nutritiously balanced meals, as well as equally valuable social interaction provided by those dropping off their meals. Whilst there is government assistance for those in need, local charities, such as Meals On Wheels and Feed Our Future, are often stepping in to catch those who would otherwise fall through the cracks.
Women in White
While chefs have always been called on to help feed the masses, the role they play in education has become just as valuable for shaping the community. Three local female chefs are doing their part to guarantee Caymanian students get the assistance needed to start their climb up the career ladder. Chefs Jessica Moore, Brittani Seymour and Timisha Edwards set up the Culinary Scholarship for Women in 2018 to benefit aspiring female chefs looking to further their education in a culinary field.
The talented trio, known together as the 'Women in White', have already supported one Caymanian student through her final year at Johnson & Wales University with the help of funds raised at the inaugural Women in White Culinary Event. The 2019 fundraising event generated a whopping $12,000, ensuring continued support for the next generation of female culinary masters in the culinary capital of the Caribbean.
Corporate Generosity
Corporate culinary leaders are also getting involved in the push for change. The Food and Beverage manager of the Ritz-Carlton and Grand Old House restaurant graciously leant a hand in schooling the young men from Cayman's Boyz2Men programme on social etiquette. Each year Boyz2Men, led by programme coordinator Christopher Murray, offers guidance and advice for entering the adult world to a group of John Gray High School students. As part of their education they must learn how to conduct themselves in a formal social setting. The boys were first taken to the Ritz-Carlton where they were taught how to lay the table, which knives and forks to use, when to pull the chair out for their mothers and to allow them to order first. Then Grand Old House treated the group of boys and their mothers to a beautiful evening of fine-dining, rounding off with the boys presenting their mothers with roses. On the surface the evening was an enjoyable treat, but the real value lies in what the students took away from the programme, namely the confidence and tools to grow into upstanding members of Cayman's society.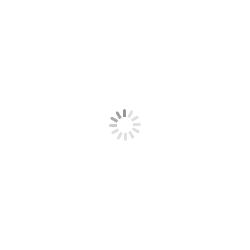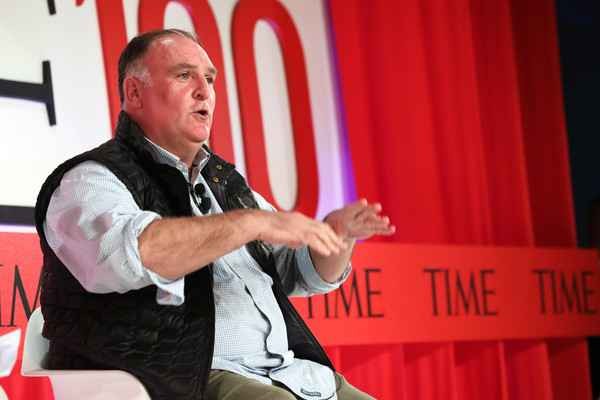 ©Getty Images North America
Jose Andres at the TIME 100 Summit
Transforming Communities
Speaking at the TIME 100 Summit, José Andrés explained that chefs are "engineered to adapt to chaos" owing to hours spent working in chaotic kitchens. However the chefs of today are stepping out of the kitchen and addressing chaos on a larger scale. Increasingly, chefs are assuming greater social responsibility in tackling a myriad of issues and we've seen an inspiring shift on-Island as Cayman's own chefs have piled their plates high with do-good work. From handing out hot meals to vulnerable citizens and providing culinary education to the Island's youth, to quite literally feeding Cayman's future, local chefs and organisations are sharing in José Andrés' mission to transform communities.